The word/definition ANIMAL, derives directly from the Latin word ANIMA, which means SOUL.
Far away from material considerations, what would your and my world be without animals? How would your and my existence be, reduced to soulless functionality? What is Soul, and what is soulfulness?
amazingly in Japanese Language, the word for 'SOUL'
'KOKORO' connects & interrelates all of the following words and meanings: * SOUL * SENSE * HEART * CENTRE * SPIRIT * MOOD * REASON * COMPREHENSION * FEELING *
In my Animal Paintings I try to visualize the essential - invisible - inner self ...in short: the soul of these wonderfull & very vulnerable beings, the way I perceive it.
You will notice that some of these paintings are quite realistic - whereas others (the more recent ones) become increasingly surreal: on the long run I am striving for the latter, since images done in a realistic style, are unfortunately prone to be looked at in a more superficial and materialistic sort of way. On the other hand and for the painter, they can be just as technically & artistically challenging.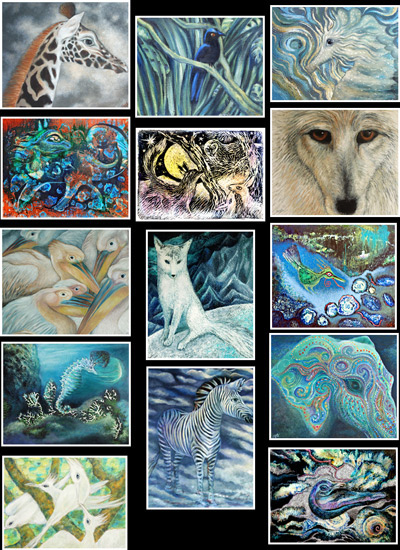 webdesign, graphics, images & text by Cigal© 2017